Nissan Sentra vs. Honda Civic
2024 Nissan Sentra vs 2024 Honda Civic
Are you in the market for a compact car and finding yourself torn between the 2024 Nissan Sentra and the 2024 Honda Civic? You're not alone; these two vehicles are both popular choices in the compact car segment. To help you make an informed decision, we'll break down the key factors that matter most when comparing the Nissan Sentra and the Honda Civic: price points, powertrains, interior features, and more.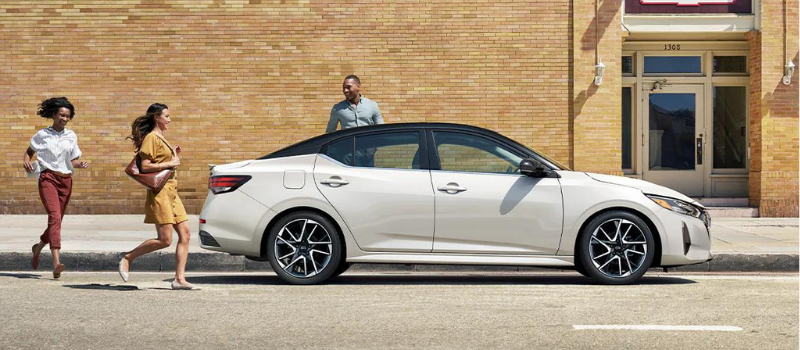 Nissan Sentra vs. Honda Civic: Price
The 2024 Nissan Sentra emerges as the more affordable commuter when compared to the Honda Civic. With a starting price of just $21,745, the Sentra offers an attractive option for budget-conscious individuals seeking a reliable and cost-effective daily driver. Its exceptional fuel economy, boasting 30 mpg in the city and an impressive 40 mpg on the highway, means you'll be saving significantly on gas expenses during your daily commute. The combination of a lower initial investment and long-term savings on fuel costs makes the Nissan Sentra the ideal choice for those who value affordability and efficiency in their daily transportation.
Nissa Sentra vs. Honda Civic: Powertrains
Under the hood, the 2024 Nissan Sentra boasts a fuel-efficient 2.0-liter inline-four engine that delivers a respectable 149 horsepower and 146 lb-ft of torque. What's particularly noteworthy for this model year is the introduction of the Xtronic CVT transmission, purposefully engineered to enhance fuel efficiency while providing a smoother and more refined shift pattern. Additionally, the Sentra incorporates an Idle Stop Start feature, intelligently shutting off the engine when the vehicle comes to a halt, ensuring fuel savings during idling moments.
Although the Honda Civic underwent a redesign in 2022, its powertrain options remain largely unchanged from the previous-generation model. Base models are equipped with a reliable 2.0-liter four-cylinder engine, producing 158 horsepower. For those seeking more power, the upgrade engine is a turbocharged 1.5-liter four-cylinder, now capable of generating a more robust 180 horsepower. Honda's commitment to these tried-and-true powertrains ensures that Civic drivers have dependable and efficient options to suit their needs.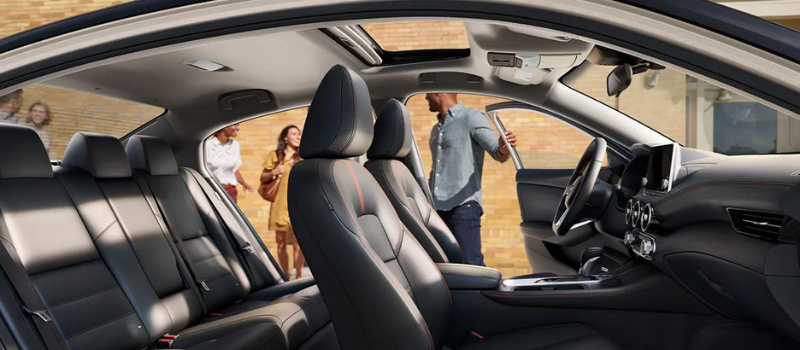 Nissan Sentra vs. Honda Civic: Interior
2024 Nissan Sentra The Sentra's interior boasts a high level of refinement in the compact car class. It features a D-shaped steering wheel, sleek round air vents inspired by the Nissan Z sports car, and ample storage options, including front and rear door pockets, a center console with an armrest, and even an available rear seat armrest with cupholders. The Zero Gravity front seats offer enhanced comfort for your daily drives.
Honda Civic The Civic's interior design is streamlined and modern, with clean lines and a unique dashboard featuring a full-width honeycomb-patterned mesh design that cleverly hides the air vents. A spacious center console provides ample storage space for your personal items. While the passenger space is comparable to the Sentra, the Civic offers a more generous cargo bay.
Stop by Our Nissan Dealership in Wilsonville Today!
Both the Nissan Sentra and the Honda Civic are excellent compact car options. However, the Nissan Sentra stands out with its affordability, remarkable fuel efficiency, and stylish, refined interior. If you're looking for a vehicle that won't break the bank, delivers exceptional gas mileage, and offers a comfortable, feature-packed interior, the 2024 Nissan Sentra is the right choice for you. It strikes a perfect balance between value and quality. So, why wait? Head to your nearest Nissan dealership and experience the Sentra for yourself.
Stop in at Tonkin Wilsonville Nissan for an up-close look at the new Nissan Sentra, and experience firsthand the unprecedented levels of style and capability these latest models have to offer.